---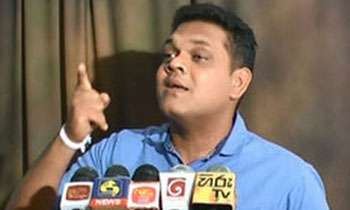 The Joint Opposition today hinted at the direct involvement of Finance and Mass Media Minister Mangala Samaraweera behind the controversial New York Times Report, which alleged that a Chinese company had funded the campaign of Former President Mahinda Rajapaksa in January 2015.
Joint Opposition member MP Shehan Semasinghe told a news conference that Minister Samaraweera's anxiety had revealed that he was behind the New York Times report, which was aimed at tarnishing the reputation of Former President Rajapaksa.
He said such moves were also earlier carried by some parties prior to the Presidential Election in 2015 targeting Mr Rajapaksa and added that the Government was currently also in an attempt to repeat the same agenda in order to gain more votes at the forthcoming decisive elections in the country.
"A US State report has revealed that the US has funded US$ 585 million for three countries including Sri Lanka, Myanmar and Nigeria to establish Good Governance through Presidential Election in 2015. The New York Times should also make revelations on this matter. The Government should also be answerable," he said.
Meanwhile, Joint Opposition member MP Kanchana Wijesekera said the two local journalists, who were involved in the controversial New York Times report were close affiliates of Minister Samaraweera.
He said a report, similar to the New York Times report, was earlier carried out by a State newspaper in 2015 by the same journalists indicating their involvement in the New York Times report.
"This New York Times Report has targeted the upcoming elections. The Government is in an attempt to conceal the burning issues in the country, including the uprising underworld activities, with these kinds of false reports," he said.
"We would like to make an open invitation to NY Times International Editor Michael Slackman and South Asia Correspondent at Times, Maria Abi-Habib to arrive in Sri Lanka to discuss the controversy with their findings. We are ready to bear all the needed expenses," he said. (Kalathma Jayawardhane)
Video by Sanjeewa