---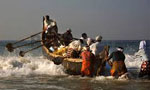 As many as 1000 Indian trawlers are engaged in illegal fishing in Sri Lanka's territorial waters off the North and the East for the last one month, causing an extensive damage to marine ecology, Prime Minister Ranil Wickremesinghe said in Parliament yesterday.
The Prime Minister said action would be taken to ban bottom trawling here, and Tamil National Alliance (TNA) MP M.A. Sumanthiran had worked out legislation as a Private Member's Bill providing for it.
He said the subject Minister would take steps to gazette it shortly. The Prime Minister made these remarks in response to a question directed at him by Chief Opposition Whip Anura Kumara Dissanayake. As pointed by Mr. Dissanayake, the Prime Minister said illegal fishing had impacted livelihood of Sri Lankan fishermen of the North.
Outlining measures taken at diplomatic level for the resolution of the fisheries issue between the two countries, he said the government would speak to the authorities of Tamil Nadu.
"Such engagements remained stalled because of elections in Tamil Nadu. We can resume it now," he said.
Asked whether it was decide to specify special fishing zones in Sri Lankan waters for Indian fishermen on allotted days, he said there were various proposals from both sides to find a solution, but none had been agreed upon yet.
"We have to finish off this problem this year. We cannot drag on it any further," he said.
He said a solution, acceptable to northern fishermen, only would be worked out.
Mr. Dissanayake said there should not be any compromise for sharing the fisheries resources of Sri Lanka in any case.
Also, he said India had a similar issue with Pakistan, but action was taken to prevent Indian fishermen encroaching Pakistani waters.
"They designated a boundary line and a GPS system was installed to monitor Indian vessels crossing it,," he said.
Quote: We have to finish off this problem this year. We cannot drag on it any further. (Kelum Bandara and Yohan Perera)