---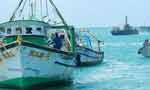 Sri Lanka Navy yesterday assisted the Sri Lanka Coast Guard to arrest twenty-nine Indian fishermen along with four fishing trawlers while poaching in Sri Lankan waters in two separate incidents in Talaimannar and Kudiremalai.
Navy said one Indian fishing trawler with nine fishermen were arrested in North of Talaimannar while another three Indian fishing dhows with 20 Indian fishermen were arrested in North-west of Kudiremalai Point.
The arrested fishermen along with the fishing vessels were handed over to the Talaimannar fisheries officials and Kalpitiya Police for further action.