---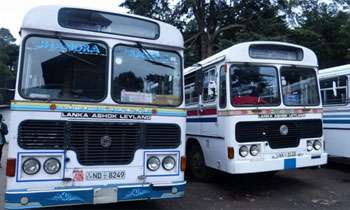 All Ceylon Private Bus Association (ACPBA) and the Private Bus Workers' Association (ACPBWA) today warned that they would launch a country-wide indefinite strike from September 24 midnight, demanding a hike in fares and due to the revision of recent traffic fines.
ACPBA Secretary Anjana Priyanjith told the Daily Mirror that took the decision following a discussion with all the private bus associations at Narahenpita today.
He said that at the discussion all associations agreed to have an immediate bus fare hike following the increase in the diesel price.
The price of diesel had increased by 12.84 per cent.
"This increase is three times higher than the percentage of fuel price increment of four per cent according to the National bus fare increment policy," Mr Priyanjith said.
He said they didn't expect the Transport Minister to increase the fares.
"If he tried to do so, the minimum bus fare should be Rs. 15 which is now at Rs.12. All bus fares should be increased by ten per cent," he said.
"Next week they (Government) will increase the bus fare according to a formula of their own," Mr Priyanjith added.
According to the National Policy on Bus Fare Increment - fares will continue to be regulated by the National Transport Commission as per Bus Fares Policy of the Government.
Meanwhile, the Inter-Provincial Private Bus Association (IPPBA) President Sarath Vijitha Kumara said they would not join the strike.
He said the Ministry had requested the IPPBA for a discussion Wednesday morning. "There we going to request the bus fare hike or the fuel concession Minister.
"We can't decide on joining the strike without a clear decision from the Ministry and our decision would be taken after Wednesday," Kumara said. (Chaturanga Samarawickrama)