---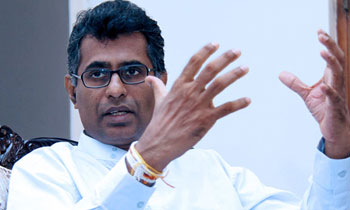 Inaction of Law and Order institutions had aggravated the recent clashes into chaos, Megapolis and Western Development Minister Champika Ranawaka said today.
He said the chaos could have been prevented if the police or other relevant authorities had acted soon after the incidents were reported.
The Minister said law could have been enforced when the matter was being highlighted in the social media. "However sufficient action were not taken to settle it," he said.
He said that an international mechanism was in place to defame war heroes and the Sinhalese to portray them as barbarians.
Further, he said that if anyone thinks that these incidents help to protect the Sinhalese ethnicity, it was a deception and it only can survive via unity.
Minister Ranawaka said anti-Muslim feeling were spreading in the world and no wonder the Sinhalese are also afraid of the increase of the Muslim population.
He said that an extremist Muslim group was creating an open threat not only to Sinhalese but also to Hindu, Christians and other religions all over the world.
"Therefore, it is not strange that such a feeling occurred on the general Muslim community among the Sinhalese," he said.
He also said that during the LG election such extremist statements were seen circulating criticizing the Muslim women candidates, however the law was not enforced on such incidents.
He said the moderate Muslims secretly and privately condemn such statements but do not condemn publicly, therefore had encouraged extremism.
He added that law should be immediately enforced whenever extremism occurred in any ethnic group and it was the responsibility of all ethnic groups to commit towards defeating extremism. (Thilanka Kanakarathna)