---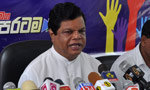 The joint opposition today asked President Maithripala Sirisena to impose a special tax of Rs.20 on a cigarette with immediate effect so that the government could earn a revenue of Rs.82 billion.
MP Bandula Gunawardena told a media briefing that this proposal should be implemented in addition to the current tax on alcohol and tobacco products because some of the finance ministry bigwigs were not prepared to increase the prevailing tax structure on these products.
He said Rs.41 billion worth of cigarettes was produced annually.
"The special tax of Rs.20 which I have proposed is similar to the special commodity levy on essential items. In 2015, the tax revenue from tobacco products was estimated at Rs.80 billion. The state income will be doubled if the proposed special tax were implemented," the MP said adding that it would help recover the VAT shortfall of Rs.55 billion between the current Rs.220 billion and the envisaged Rs.275 billion.
"It will be practical and justifiable if the Government could recover the rest of the shortfall by way of a special tax of Rs.20 on each cigarette, rather than burdening the people by increasing the VAT," he added.
He said the smoking habit had not declined even though the tax on tobacco products had been increased from time to time and that even in this instance there would be not much of a decrease in the smoking of cigarettes. (Kalathma Jayawardhane)
Video by Janaka