---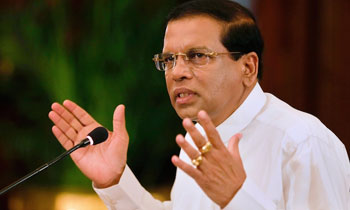 President Maithripala Sirisena said today if allegations were made against him when he was taking decisions against fraud and corruption, he would give up all positions and join the people to take that fight forward.
He told a public meeting in Nikaweratiya that the SLFP candidate was defeated in 2015 because the SLFP government did several mistakes and if people from the UNP did the same mistakes while being in the government, the people will not approve it.
The President said the people elected a new government by changing the earlier corrupt regime so as to introduce a new programme and everyone should get ready to walk on the correct path to let that expectation come true.
While stating that separation is easy and getting together is difficult, he said that it is the responsibility of all to take the country forward by not getting divided by being political infants, but acting as mature and intelligent politicians. He said all should become politicians who love the country and the people and not work for political power and private agendas.
He noted that whatever anyone says, he committed his 50-year political career towards a clean and honest political culture and during that long political trek with experience, he acted with patience and equanimity. He said he was not someone who had come to learn politics.
Although allegations of postponing elections have been made, he said the SLFP wants to go for an election as soon as possible and all commitments have been done in that regard by now.
Stating that the UNP had only 47 seats when the 19th Amendment was passed in Parliament, 142 votes were given by the SLFP led alliance at that time. He said that the SLFP should be strengthened not only to win elections but also to have a good political culture in the country.
While speaking about development programmes and livelihood upliftment projects, the President said the government is spending over Rs. 6 billion a month to provide assistance to people affected by the drought.
Chief Minister of Wayamba Province, Dharmasiri Dassanayake, State Minister Dilan Perera, Deputy Minister Tharanath Basnayake, Chairman of SLFP Youth Front Shantha Bandara, Wayamba Provincial Minister Lakshman Vendaruwa, Mr. Ananda Sarath Kumara, Ananda Jayalath, Kamal Indika and Nilantha Supun Rajapaksha were among those who participated in this function.
The President also vested the newly built laboratory under 'Langama Pasala – Hondama Pasala' (the closest school is the best school) at Rajabima School in Nikaveratiya with students.
Principal of the school B. M. H. Dissanayake presented a souvenir to the President.
After the function at the school the President joined religious activities at the Budumuththava Rajamaha Viharaya in Nikaveratiya.