---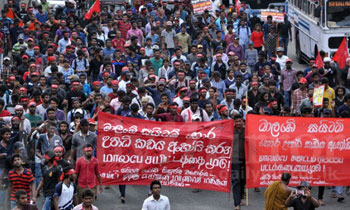 Inter-University Students' Federation (IUSF) Convener Lahiru Weerasekara and Inter University Bhikkhu's Federation (IUBF) Convener Tempitiye Sugathananda Thera were remanded till February 28 by Fort Magistrate Lanka Jayaratne today on charges of disobeying previous court orders and causing a public nuisance by holding a protest at the Kollupitiya junction on January 25, 2018 during Local Government elections.
The Police said the protesters had forcibly attempted to enter the Temple Trees.
The Magistrate observed that protesters had caused a huge traffic jam and were a public nuisance.
The police said that they had publicly announced the previous court order on not causing a public nuisance but the protesters continued to ignore it.
The two suspects had appeared in the Fort Magistrate's Court in connection with another case, but were directed by the police to stay back for the case on the protest because they were suspects in this case as well. (Shehan Chamika Silva)
Video by Buddhi