---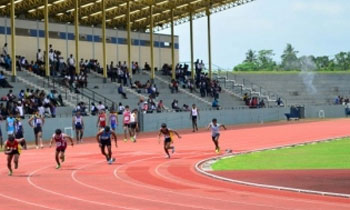 The International Schools Athletic Competition (ISAC) organised by the Lyceum International School will be held as planned on February 25 despite rumours of a bomb threat at the Mahinda Rajapaksa Stadium in Diyagama where the competition is to be held, Lyceum Director Nikitha Grero said.
He was responding to an anonymous email allegedly sent to some International School Principals claiming security threats at the ISAC scheduled for February 25.
Mr. Grero said there was no need to react to anonymous emails and assured that standard security would be provided to the competition, students and all attendees.
The ISAC is being organised by Gateway College and the Lyceum International School alternatively. Each school gets an opportunity to organise the event for three consecutive years and Lyceum International School is the host for this year as well.
Mr. Grero said they were focused on the education of the students and expressed optimism that the event would be concluded successfully without any hiccup.
However, amidst this speculation, several international schools including the Asian International School (AIS) and the British School-Colombo had pulled out their athletic teams from ISAC.
"We are sorry this happened but it's for the best," AIS Director/ Principal Mrs. Goolbai Gunasekara said.
Meanwhile, ISAC Secretariat at Lyceum said it was a 'rumour' which had been spreading but still, all school heads had decided to beef up the security at the competition.
"There is no need to panic. It's just a rumour. Nevertheless, we have decided to increase security," it said.
Meanwhile, the Chairman of the International Schools of Sri Lanka (TISSL), Dr. Harsha Alles said he had requested all heads of the member schools to try their best to take part in the ISAC -- which is considered as the flagship event of the international schools sports calendar.
Dr. Alles said it was 'not very nice' if the schools continue to withdraw from the competition. "We have organised the ISAC even during the time of the war when there were direct threats. My opinion is that schools should try their very best to participate and maximum security should also be provided," he told Daily Mirror.
Dr. Alles, who is also the Chairman of the Gateway Group of Organisations, said they had put a great deal of effort, time and energy to keep the ISAC going.
He said a good majority of member schools had confirmed that they would participate in the athletic competition which was founded by veteran educationalist R. I. T Alles.
Commenting on the anonymous email, Dr. Alles said acts of this nature could happen to any organization in any country.
"Nevertheless, we should not take the situation lightly. I have requested the Lyceum, this year's organiser of the event, to provide the maximum security for the event. In fact, they are scheduled to hold a meeting on Friday with the law enforcement authorities, including the Police," he said.
Several attempts to contact the Police on this matter, failed. (Lahiru Pothmulla)