---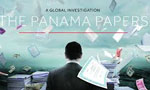 Names of 65 Sri Lankans including Avant Garde Pvt. Ltd Chairman Nissanka Senadhipathi, were revealed by the International Consortium of Investigative Journalists (ICIJ) as a part of the controversial panama papers, last night.
The names were connected to 53 Sri Lankan addresses. The papers also revealed seven intermediaries and three offshore entities under 'Sri Lanka' on the ICIJ website.
OVERSEAS FINANCE Ltd, TECLLOYD LTD and BEST CHEERS were the three offshore entities linked to Sri Lanka incorporated in the British Virgin Islands.
Senadipathi and three shareholders, Senerath Bandara Dissanayake, Prasanna Athanasius Sirimevan Rajaratne and Y. H. P. Kithsiri Manjula Kumara Yapa had incorporated an offshore company through Mossack Fonseca & Co. (Singapore) Pvt. Ltd in August 2012.
The ICIJ said that there were legitimate uses for offshore companies and trusts. "It's not our intention to suggest or imply that any persons, companies or other entities included in the ICIJ Offshore Leaks Database have broken the law or otherwise acted improperly," it said.
Full Database of Offshore Leaks