---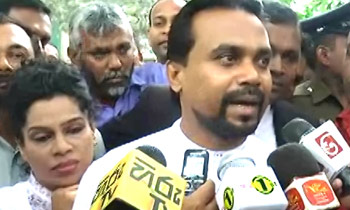 If Prime Minister Ranil Wickremesinghe had intervened to bail him out, it means it was the Prime Minister himself who had ensured he remained in remand custody, National Freedom Front (NFF) Leader and MP Wimal Weerawansa said after he was released on bail today.
Responding to questions asked by journalists outside the Colombo Fort Magistrate's Court, the MP who was released on bail after being remanded for 87 days said the news which says the Premier has intervened to bail him out has caused serious disgrace to the judiciary which is independent.
"On the other hand, the news has confirmed the allegation levelled by some factions. The Prime Minister can't instruct law enforcement authorities to release me. The cat has jumped out of the bag," he said and added that there was no need for him to beg for bail from either the President or the Prime Minister.
"Bail was decided by the Court. If anyone is attempting to score marks for granting bail, it is only a cheap move," the MP said.
He said he was thankful to President Maithripala Sirisena and Prime Minister Wickremesinghe for 'keeping him in jail' without valid charges and giving the opportunity to restart with a boost.
"When the hearth is heated, the iron gets seasoned and can be mended properly," the MP said.
Video by Courts Prasanna