---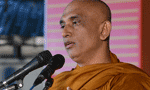 Breaking his long silence Presidential Adviser Ven. Athuraliye Rathana Thera said today he would intervene in matters of crucial importance just as he played his part in toppling the Rajapaksa regime.
Addressing the launch of the National Consumer Network by the Strategic Enterprise Management Agency (SEMA) he said he was with the ordinary people and always prepared to serve the country.
He said there were several people who had asked him why he remained silent.
"Many people have asked what I am doing at present. I am on a mission to make this country a a 'Wasa visa nethi ratak'. We are consuming poisonous food which are tainted with chemicals. Quality food is only available for the rich while the ordinary people are compelled to consume low-quality food," the Thera said.(Kalathma Jayawardhane)