---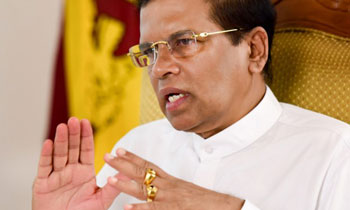 President Maithripala Sirisena said today he was unable to protect those who are found guilty of acts that are not connected to the national security and those who are guilty of killing media persons or sportsmen.
He emphasized that he would always take the fullest responsibility on behalf of any problem face by the officers, staff members and war heroes who fought against the LTTE.
The President, pointing out that it was the responsibility and duty of the government to protect the war heroes who fought for the Motherland, assured that he would always fulfill his responsibility as the President and Defence Minister.
He said that he was not prepared to make any war hero a suspect in the charges leveled against the armed forces and the government on the alleged violations of human rights during the war against terrorism.
While there is an unprecedented goodwill for Sri Lanka among the international community today and many people question as to what benefit could be derived to the country from this, President Sirisena said. "We are utilizing that goodwill and friendship for the protection of the honour and respect of our war heroes," he said. He added that the most powerful world leaders have assured him that they would stand by Sri Lanka's independence and democracy as well as on issues pertaining to the members of armed forces.
He made this statement at the opening of the newly constructed three-storeyed building at the Defence Services School in Kurunegala.