---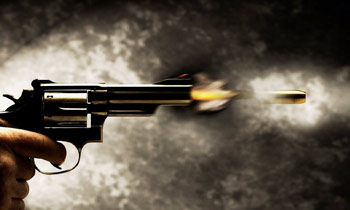 My husband, Selavarasa Jayanthan (39) from Jaffna, was never a member of the LTTE. It is a rumour to say that he was a former combatant. My husband fired unintentionally, the wife of the main suspect said.
Two people were arrested in connections with the shooting incident targeting Jaffna High Court Judge, M. Elancheliyan at the Nallur South Road on July 22.
The main suspect surrendered on Tuesday morning and made his statement to the Police.
"After consuming liquor with some people in my house at Nallur on Saturday, we came to the Temple Road Junction on the Point Pedro Road. At that moment my cousin pointed at a Police Officer coming on a motorcycle and challenged me to shoot him, grabbing his pistol if I had the guts. Hearing this I grabbed the pistol at once from the Police Officer which went off accidentally," the suspect said.
Following that, brandishing the pistol, I once again stopped a scooter that was coming in that direction and taking it by force, I went through the Adiyapatham Road to Kalviyankadu area and from there I went to Ariyalai.
After abandoning the scooter behind the Peychchi Amman temple, I went to my maternal aunts' house in Thirunagar.
I told my aunt that I had hit a Police Officer in my drunken state and that the Police were searching for me. I changed my clothes there and went to the Kombayanmanal cemetery, where I spent the night.
I spent the following day at a relative's house in Navanthurai. That night, I went to my uncle's place at Koddady. My uncle who had come to know the incident at Nallur, advised me to surrender to the Police. So I went with my uncle, surrendered to the Police and made my statement," he said.
The Police, after obtaining the statement from the suspect, took the suspect to his maternal aunt's house at Thirunagar in the Police vehicle with his face covered with a black cloth.
There the Police recovered the clothes worn by the suspect during the shooting.
The suspect was produced before the Jaffna Magistrate at his official residence on Tuesday. He was ordered to be remanded till August 8. (By M.Rosanth)