---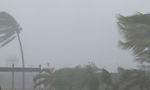 One of the highest rainfalls in the country was recorded during the last four days, the Meteorology Department said today.
The rainfall of 440.2 mm recorded in Colombo in 2010 and a rainfall of 493.92 mm also recorded in Colombo in 1992 are the top two other rainfalls recorded in the country.
Duty Meteorologist Buddika Banduratne said a rainfall of 373.3 mm was reported during the 24 hours ended at 8.30 a.m. in Kilinochchi on Monday.
On Sunday the highest rainfall was reported from Pottuvil, which was 145.8 mm.
Mahailukpallama received a rainfall of 267.8 mm, the highest on Tuesday.
"The highest rainfall received during the last 24 hours ended last morning at 8.30 a.m. was reported from Kalepitimulla, Gampaha. The rainfall was 135mm," he said.