---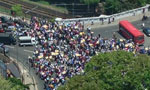 Heavy traffic was reported in Pettah due to a protest march by the Government Technical Officers Union which is heading towards the Presidential Secretariat.
Police said Lotus Road which leads to the Presidential Secretariat was closed from the Lotus Roundabout to prevent protestors from entering the vicinity.
The Union is demanding a solution to six main issues.
Video by Buddhi