---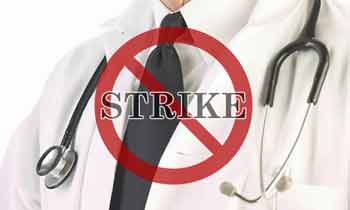 Healthcare services countrywide came to standstill today as a result of the work stoppage by the members of the Government Medical Officers Association (GMOA) over the SAITM issue.
GMOA Assistant Secretary Nalinda Herath told a news conference that they would not day their trade union action was until the government accedes to their demands on the SAITM issue.
"This strike will only be successful when we win this battle. Minister Rajitha Senaratne has said the government will take tough action against the striking doctors. We will be forced to toughen our stance if he does so," he said.
Dr. Herath rejected allegations made by the minister that the doctors would be held responsible if anything untoward happens in the fight against dengue and said government doctors would continue treating dengue patients considering it as an emergency situation.
Meanwhile, GMOA Media Spokesman Samantha Ananda said the final phase of the battle against SAITM has now arrived and that the government should resolve this matter without further delay.
He said they had made five suggestions which the government could easily implement in resolving this matter.
"According to their suggestions, the Health Minister should gazette the minimum standards of medical education and the Higher Education Minister should inform the courts that SAITM does not have the compliance certificate given by the Sri Lanka Medical Council (SLMC). The government should stop SAITM from enrolling new students," Dr. Ananda said.
However, the GMOA said yesterday it would continue the countrywide strike until the government addressed their demands on SAITM. (Kalathma Jayawardhane)