---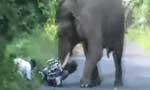 The Ukranian national who had been killed by a wild elephant's attack in Habarana had attempted to take a photograph with the elephant, the Wildlife Conservation Department said today.
Speaking to the Daily Mirror, Wildlife Health Management' Director Dr. Tharaka Prasad said it has not yet been officially proved whether the photograph was a selfie or not.
"It has been reported that the foreigner had been killed on Tuesday and his female companion was injured by the wild elephant's attack, while they were on the Habarana-Sigiriya road," he added.
Meanwhile, Minneriya National Park Range officer H.G. Wickremethilake said they have found pieces of a broken camera in the elephant's rampage area where the foreigner had been killed, even though his female companion had stated that they were attacked on the way while they were travelling on a scooter.(Kalathma Jayawardhane)