---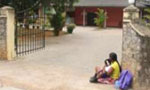 Ceylon Teachers Union (CTU) today condemned Education Minister Akila Viraj Kariyawasam's statement, where he called for the separation of the child in Kuliyapitiya from his mother, after being denied a school due to rumours of his mother being HIV positive.
In an interview with the BBC Sinhala Sandeshaya, the minister said the Zonal Education Director told him the boy's mother had HIV and that therefore the child should be separated from her and placed in probationary care.
The CTU General Secretary Joseph Stalin asked the minister to show more sensitivity in the matter.
He said the child should not be separated from the mother, saying the minister had no right to do so.
Further, he said that as an Education Minister, he could not confirm whether the mother was HIV positive.
"As a father, he should understand that all parents love their children. He should not brand the child or his mother. Being the Education Minister of the country, this is not a good example to give the younger generation," he said. (Piyumi Fonseka)