---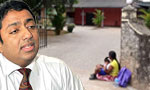 Education Minister Akila Viraj Kariyawasam said today the Government had decided to provide a school for the six-year-old boy, who was deprived of a school over rumours that he was HIV infected, and to meet his expenses throughout his schooling.
He said the child's mother would be provided with a new home near the child's School.
While criticizing various posts against him on social media web sites, Mr. Kariyawasam said no one seems to know the background to his statement.
"I am also a father and yes I know how parents love their children. But, we should think about other issues as well. If this child is infected with HIV, it is not good for the child and the others. My hometown is Kuliyapitiya and when I checked about this matter, I found that the child did not have a good family background. I am not trying to blame his mother or father. The seriousness of the problem is still there. As Education Minister, all I want is the best for Sri Lankan children including this child," he said.
The minister requested the people not to judge without knowing all the facts of the story.
He said a private company has volunteered to sponsor the child's educational requirements.
However, the minister denied having refused to divulge the name of the school which had agreed to admit the child out of fear that the other parents would also contemplate withdrawing their children from the particular school. (Piyumi Fonseka)