---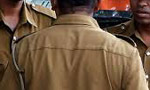 Four police officers attached to the Hambantota police have been interdicted in connection with the disappearance of a youth who was in police custody over a theft he allegedly involved in, Police said.
The four officers including the OIC of Hambantota police had earlier been transferred pending an inquiry over the incident.
Meanwhile, Acting Police Spokesman SSP Ajith Rohana said yesterday that the disappearance of the youth could be a result of a shortcoming on the part of the Police.
The 20-year-old youth had been arrested along with two more suspects in connection with a paddy theft in Bandagiriya, Hambantota a few days ago and he was reported missing since September 05, while being detained by the police.