---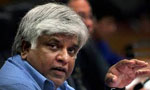 Some 90% of the port employees who were protesting at the Hambantota Port had been appointed by the 'Nil Balakaya' youth organisation headed by MP Namal Rajapaksa during the previous regime, Ports and Shipping Minister Arjuna Ranatunga said today.
Addressing a news conference at the Ports and Shipping Ministry, the minister said the employees had never been made permanent during the Rajapaksa government.
"These employees had no legal document issued to validate their employment. I personally visited the employees at the port and briefed them about the actual situation of their employment. Most of the employees were recruited to the Magampura Harbor and the harbour had been established as the Magampura Port Management Company (MPMC)," he said.
"After the government came into power, we have given permanent appointments to 88 employees who were on contract basis. Their employment probation period had been completed by November 11 this year. Now those employees were appointed as permanent employees under the MPMC," the minister said.
"These people are today requesting permanent appointment to the Ports Authority. There was no such promise made by this government or the previous government to appoint MPMC employees to the Ports Authority. According to my knowledge there are political forces operating behind them and that force is from the previous regime and they don't like to give them a permanent job," he said.
The new institute the ministry plans to set up in collaboration with the Chinese company and the Ports Authority will provide permanent employment opportunities and it's a government institute, the Minister said.
"The people from the previous regime are trying to destabilize the employment status in the ports Authority. We cannot take any responsibility over their employment because they had caused a huge damage to government property during the protest," he said.
"If I make a new company tomorrow, I will not take any of these employees because they are still influenced by the political forces and they cannot be trusted," minister Ranatunga said. (Chatruanga Pradeep)