---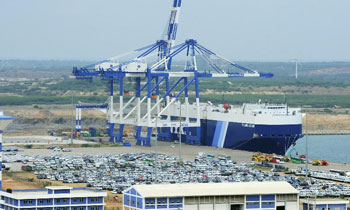 The Cabinet Sub Committee appointed to work out guidelines for leasing out the Hambantota Port, had taken up for consideration, among others, a proposal to reduce the lease term from 99 years to 50 years, it is learnt.
The committee headed by Minister Dr. Sarath Amunugama met last week.
There were a number of proposals put forward to the committee seeking to amend the original draft of the agreement to hand over an 80 percent stake of the port to China Merchants Ports Holding Company.
In addition to reduction of the lease period, it has also been proposed that the Harbour Master should be responsible to Sri Lanka Ports Authority.
Sources close to the Committee said the agreement should be signed, once finalised, between China Merchants Ports Holding Company and a local company registered under the Companies Act here.
That decision has been taken because it is legally impossible to do so with Sri Lanka Ports Authority.
"If we are to do it, we will have to amend the Act concerned," the source said.
The source said President Maithripala Sirisena also wanted the reduction of lease period to 50 years.
Also, it is proposed that Sri Lanka Navy should provide security to the Port having a base there. In equity sharing, it has to be 60-40 not 80-20 as in the original draft.
"All these proposals are under discussion now. The final draft should be worked out after further deliberations," the source said. (Kelum Bandara)