---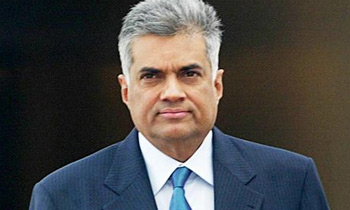 All security matters in the Hambantota Port will be handled by the Sri Lankan Navy, Prime Minister Ranil Wickremesinghe said yesterday.
He said this at a forum organized by the Japanese Government on the theme, Global situation and importance of Japan in Tokyo.
"Sri Lanka will act with responsibility when it comes to ensuring security in the Indian Ocean region," the Prime Minister said and added that security matters at the Hambantota Port would be included in the agreement to be signed with China Merchant Port Holding Company Ltd.
He said Sri Lanka was seeking Japanese assistance to develop the Trincomalee Port.
Special Projects Minister Sarath Amunugama requested Japan to assist the Sri Lankan Government to construct a modern hospital in Kandy just as it assisted in constructing the Sri Jayewardenepura Hospital and invited the Japanese entrepreneurs to invest in Sri Lanka.
Meanwhile, Development Strategies and International Trade Minister Malik Samarawickrama said negotiations were continuing with the intention of reducing the lease period on the Hambantota Port. Referring to the Sri Lankan exports to Japan, he said the annual exports to Japan was currently US$200 million while Thailand's exports to Japan stood at at US$10 billion.
The Minister invited the Japanese firms to invest in Sri Lanka stating that Sri Lanka was open for investments at concessionary rates.(Menaka Mookandhi in Japan)