---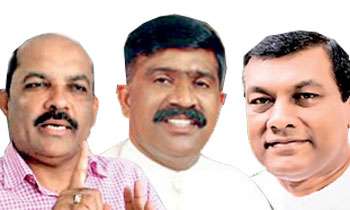 The United National Party (UNP) will request President Maithripala Sirisena to appoint three more non-Cabinet ministers, it is learnt.
According to UNP sources, the party has decided to nominate MPs Palitha Range Bandara, Wasantha Aluvihare and Sydney Jayaratne as non-Cabinet ministers.
According to the 19th Amendment, the President has to make the appointments. There are 28 Cabinet ministers appointed at the moment in addition to the President and the Prime Minister who also hold Cabinet posts. The Cabinet size has to be restricted to 30 according to the constitution.
The constitution provides for the appointment of 40 State, non-Cabinet and deputy ministers. Already, 30 such ministers have been appointed. Three of them are non-Cabinet ministers.
The UNP sources said the party would request the President to appoint three more non-Cabinet ministers. However, it is learnt that the President declined to appoint Mr. Range Bandara as a non-Cabinet minister when his name was proposed on the previous occasions.
Asked about this, Mr. Bandara said, "I was nominated as a non-Cabinet Minister on the previous occasion. Yet, the President did not make the appointment. I am not bothered whether I am given or not".
Besides, the President has also refused to appoint MP Field Marshall Sarath Fonseka as a Cabinet minister. (Kelum Bandara)