---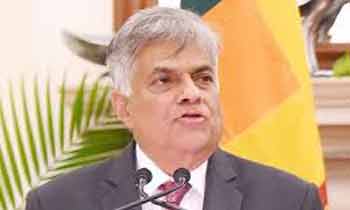 Highlighting the fact that Sri Lanka was being affected by changes in global weather patterns, Prime Minister Ranil Wickremesinghe said today the government would have to take important decisions to face this situation.
He told those who had gathered at a ceremony at Temple Trees where bowsers were distributed to drought-stricken districts that Sri Lanka's economy would have to be adjusted to face such changes.
"The prevailing drought is not confined to Sri Lanka alone. It is being experienced in India, Bangladesh and in several other countries. Many experts including those from the UN had said global weather patterns are changing. It is a new phenomenon which Sri Lanka will also have to face. This is why President Sirisena signed the Paris agreement on behalf of the country. We would have to determine how we could adjust our economy to face these changes. The government has focused on this issue and will take important decisions in the coming months to face these changes. It is essential to think of the future generations and preserve the environment," the Prime Minister said.
He said several districts were hit by the prolonged drought. "We have faced droughts before but we will have to think whether this one is different to those we have experienced before," the Prime Minister said. (Yohan Perera)
Video by Buddhi