---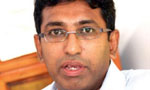 The government yesterday said that it would study the statement made by UN Human Rights Expert Juan E. Mendez who slammed Sri Lanka's criminal justice system, accusing police of sexually abusing suspects and still using torture seven years after the end of its ethnic war.
When inquired, Deputy Minister of Foreign Affairs Dr. Harsha de Silva told Daily Mirror that at the moment, he was unable to comment on the UN Rights Expert's statement on behalf of the Foreign Ministry and they would study his statement further and will soon issue a statement.
Addressing a press conference in Colombo on Saturday, UN envoy Mendez said that he had found credible evidence of detainees being tortured and disappearances since the end of the war in May 2009.
Mendez, the Special Rapporteur on torture and other cruel, inhuman or degrading treatment or punishment, said he heard between 16,000 and 22,000 people had gone missing during the conflict and its immediate aftermath.
He described the disappearances as the "torture of the most horrifying kind".
"The current legal framework and the lack of reform within the structures of the armed forces, police, attorney-general's office and the judiciary perpetuate the real risk that the practice of torture will continue," the UN rapporteur warned.
Still, the UN envoy expressed hope the government of President Maithripala Sirisena will deliver on promises of accountability for war crimes and an end to rights abuses. (Piyumi Fonseka)