---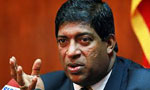 The Government has initiated the redrafting of the Value Added Tax (Amendment) Bill by way of a memorandum submitted to the Cabinet for its consideration, Finance Minister Ravi Karunanayake said.
The Bill which was placed on the Order Paper of Parliament was nullified following a ruling by the Supreme Court which said that the due procedure laid down in the Constitution and Standing Orders governing parliamentary businesses had not been followed.
When a Bill is presented in the House, it should be done after securing Cabinet approval and the receipt of such approval has to be communicated to the House in terms of Standing Order 133. The finance minister said another memorandum would be submitted on this matter on Friday for consideration by the Cabinet.
"We intend to secure approval next week," he said.
When asked whether it would be taken up in Parliament next week itself, he said it would be done immediately and noted that the new Bill would be drafted with changes to the original document.
In the original Bill, the government had sought to increase VAT from 11 per cent to 15 per cent. It has also been proposed to do away with the exemptions granted to certain service sectors such as telecommunication while widening the VAT liability threshold. (Kelum Bandara)