---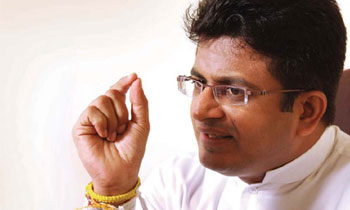 The Government is suffering from a 'Gota Phobia' and therefore, it is attempting to arrest former defence secretary Gotabaya Rajapaksa on false charges of misappropriating public funds, the Pivithuru Hela Urumaya (PHU) said today.
PHU Leader and MP Udaya Gammanpila said the construction of the D. A. Rajapaksa Memorial and a Museum at Weeraketiya was funded by the D.A Rajapaksa Fund and not by the government.
He said the project was handed over to the Sri Lanka Land Reclamation & Development Corporation (SLLRDC) as it was allowed to carry out private projects.
"The Director Board of the SLLRDC approved the project in February, 2014 with an estimate of Rs.33.9 million. Due to difficulties in finding labour, the SLLRDC paid Rs. 25 million to the navy to carry out the construction of the memorial which was opened on November 2014," he told a news briefing.
He said no invoice had been sent until the D.A. Rajapaksa Fund had questioned the SLLRDC in early 2015. The Corporation had informed the Fund to pay Rs. 25 million and the Fund had paid the amount on August 31, 2015, he said.
"Later on, the Corporation has sent an invoice asking the Fund to pay Rs.90.8 million. Due to stark increase of this estimation, the Fund raised its objection and paid only Rs. 8.9 million on July 13 this year. The Corporation had probably made a double count error thus coming to a final estimate of Rs.90.8 million. In the final invoice, false expenditure had also been included," the MP said.
He said the Fund had paid Rs.200,000 in addition to the Corporation today for the construction of the memorial and the museum.
"If someone says Mr.Rajapaksa has misappropriated public funds and therefore, he should be arrested, I invite them for a debate. Mr.Rajapaksa spearheaded the war against the LTTE and made Colombo a livable city. Therefore, attempts are being made to silence him," he said. (Lahiru Pothmulla)