---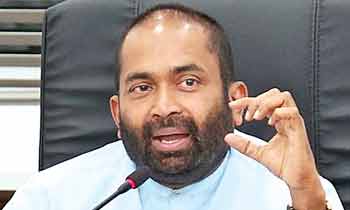 In a surprising turn of events, the government has decided not to go ahead with the two proposed Indian and Japanese-funded Liquid Natural Gas (LNG) power plants in Sampur, Power and Renewable Energy Minister Ranjith Siyambalapitiya said today.
He said that instead a 50 MW solar power plant would be constructed there.
The agreement to set up a 500 MW coal power plant with Indian investment was signed in August 2011 and the construction agreement was finalized in October, 2013 as a joint venture between the Ceylon Electricity Board (CEB) and India's Natural Thermal Power Corporation Ltd. (NTPC).
The agreement was later scrapped because of protests from people in Trincomalee, the Tamil National Alliance (TNA) and the anti-coal lobby. Sri Lanka then requested India to convert the coal power plant into an LNG powered power plant to which India agreed but warned of pitfalls in switching over from coal to LNG.
However, there was a heavy pressure from the engineers union of the CEB against the construction of an LNG powered plant in Sampur.
The minister told the media that the CEB would give priority to set up environment-friendly green energy-powered power plants using solar and wind power.
He said 20 investors had been selected to set up 60 small-scale solar power plants of one MWs and the CEB would purchase power from them at Rs.12.73 a unit thus reducing the average price of a unit.
Commenting on the proposed trade union action by CEB employees, the minister said a pay rise was given to engineers in 2015 and a 30% salary increase to all employees in 2015 under the terms of the collective agreement.
"It is not an easy task to give across the board pay hikes to all 22,000 employees. We are deeply concerned about their grievances and I will submit a memo at the next Cabinet meeting. I request all CEB employees to maintain restraint and be patient until we find a solution to their problems through dialogue," the minister said.
Deputy Minister Ajith Perera requested the CEB employees to resolve the pay issue amicably without harm to the services provided by the CEB.
"We have recruited 6,300 employees who had earlier served the CEB from outsource companies. Our aim is to convert the entire power sector a single smart grid and employee cooperation is vital for that," he said. (Sandun A Jayasekera)