---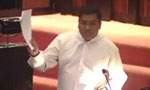 Government has already signed an agreement with Hong Kong McKenzie Company Ltd. to outsource tax collection, Janatha Vimukthi Peramuna (JVP) MP Vijitha Herath charged yesterday.
MP Herath told Parliament that the fees to be paid to the Hong Kong McKenzie Company for its services have already been agreed upon.
"The government has not learned a lesson from the privatisation of estate companies and had gone to privatise tax collection" he said while highlighting that privatisation of estate companies had resulted in a delay in signing collective agreements with the unions.
"It's been almost two years since signing of the collective agreements" Mr. Herath said while pointing out that such collective agreements are usually signed once in two years.
Meanwhile, the MP said some private sector organisations have used loopholes to avoid the payment of Rs.2,500 salary increment given to private sector workers.
"Government failed to bring in a strict law to force the private sector to give the salary increment" he said. (Yohan Perera and Kelum Bandara)