---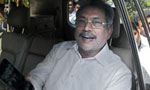 Former defense secretary Gotahaya Rajapaksa arrived at the Presidential Commission of Inquiry to investigate and inquire into Serious Acts of Fraud, Corruption and Abuse of Power, State Resources and Privileges (PRECIFAC) this morning to give statements in connection with several allegations.
The commission said that they would record statements from Mr. Rajapaksa in connection with alleged misuse flights operated by the Air Force and employing two naval ratings at Basil Rajapaksa's residence in the US.
The PRECIFAC is also to record statements regarding deployment of a group of army personnel to the security detail of Basil Rajapaksa during the previous government.
Video by Rishan