---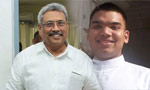 Former defense secretary Gotahaya Rajapaksa and MP Namal Rajapaksa have been asked to report to the Presidential Commission of Inquiry to investigate and inquire into Serious Acts of Fraud, Corruption and Abuse of Power, State Resources and Privileges (PRECIFAC) next week.
A PRECIFAC spokesman said they had been asked to appear before the commission to make a statement in connection with an allegation that they had misused flights operated by the Air Force.
Gotabhaya Rajapaksa is expected to appear before the commission on Monday while Namal Rajapaksa will have to report to the Commission on Tuesday.
The spokesman said a statement would be recorded from the former defense secretary over a complaint to the commission against employing two naval ratings at Basil Rajapaksa's residence in the US.
He said Namal Rajapaksa had been asked to submit a report on his movable and immovable property he held between January 10, 2010 and January 10, 2015.
Statements were recorded from several people including former Economic Development Minister Basil Rajapaksa over the allegations of misusing flights operated by the Air Force. (Ajith Siriwardana)