---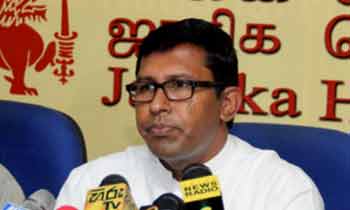 Pivithuru Hela Urumaya (PHU) General Secretary and MP Udaya Gammanpila acted as a spy for Mahinda Rajapaksa when he was a member of the Jathika Hela Urumaya (JHU), JHU National Organiser Nishantha Sri Warnasinghe said yesterday.
Addressing a news conference held at the party head office, he said MP Gammanpila had continued to leak details of JHU meetings and decisions to former president Mahinda Rajapaksa, Gotabaya Rajapaksa and Basil Rajapaksa.
"We knew Gammanpila was a mole when he was in the JHU. On several occasions, minutes of our meetings were found reported to the Rajapaksas as it was. Gammanpila clearly attempted to destroy the party," Mr. Warnasinghe said.
However, he said Mr. Gammanpila in the meantime continuously tried to change the minds of the JHU members against the then president Rajapaksa and to get the party out from the United National Freedom Alliance (UPFA) Government.
"When he was a minister of the western provincial council, Gammanpila organised a two day seminar for JHU members in Kalutara and talked against the government. He wanted us to contest against the then government to which our General Secretary Patali Champika Ranawaka didn't agree. However, most of our members eventually gave in to Gammanpila's ideas," Mr. Warnasinghe said.
He said Gammanpila spearheaded the JHU's defection from the Rajapaksa government and then back down and joined the government all by himself leaving the JHU. "Gammanpila was generously awarded for his actions to please the then government," he said. (Lahiru Pothmulla)
Video by RM