---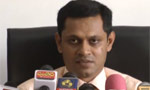 The Government Medical Officers' Association (GMOA) said they would hand over a confidential document to President Maithripala Sirisena in order to conduct investigations on the reprehensible enrolment of students by Education Minister Akila Viraj Kariyawasam to popular schools.
Addressing a media briefing, GMOA Media Spokesman Dr. Samantha Ananda said many students were continuously enrolled to popular schools in a reprehensible manner even though the minister had made false statements in Parliament regarding the enrolment of several GMOA members' children to these schools.
He said the minister had stated that children of GMOA President Dr. Anuruddha Padeniya and its Secretary Dr. Nalinda Herath were reprehensibly enrolled to popular schools with the help of the GMOA. "This is absolutely false as Dr. Padeniya's son was enrolled to the school with the bread win basis. Dr. Herath's first child was enrolled to the school as a special exemption given to specialists as his wife was a specialist and the second child passed the Scholarship Examination of the Government and entered a popular school," he added.
He said it was unethical to mention the names of children by the minister as it was against Parliamentary Procedure. He also said the minister was misusing Parliamentary privileges by making false statements.
He said the ministers should be ethically followed the policies in Parliament, rather than criticizing the personal information of other personnel.
Meanwhile, Dr. Herath said the minister was misleading the media and the people by issuing false statements.
"He also said they have not received any confirmation list of the enrollments for the request they have made regarding the admission of 200 children of government doctors who had been deprived of entrance to State-run National Schools this year," he added. (Kalathma Jayawardhane)
Video by RM