---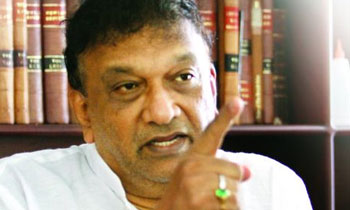 Highways and Higher Education Minister Lakshman Kirella criticized the Government Medical Officers' Association (GMOA) saying it had no right to interfere in Sri Lanka's medical education.
He told Daily Mirror that the matter connected to the provisional registration of medical graduates, who passed out from SAITM would be addressed by the government in consultation with the Sri Lanka Medical Council (SLMC).
He said the GMOA was merely a trade union and had no right to interfere in this matter and neither was it a party to the Court case filed by the aggrieved parties.
The GMOA staged a token strike on Friday demanding the closure or nationalization of SAITM, the only private medical degree-awarding institution in Sri Lanka
However, GMOA Secretary Navin de Zoysa said the GMOA's role, on similar matters had been recognized even in a previous court ruling and as such its involvement in the SAITM controversy could not be disputed.
He said the government should nationalise SAITM instead of bring the Neville Fernando Teaching Hospital under the purview of the Health Ministry.
"In that case it will only be an additional cost for the government to maintain this hospital. SAITM authorities profit by conducting degree programmes unlawfully. The government is allowing SAITM to prosper further by taking over the hospital," Dr. de Zoysa said. (Kelum Bandara)