---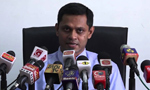 Government Medical Officers' Association (GMOA) yesterday demanded duty free vehicle permits for senior state officers once in five years from the present limit of twice during the entire service period.
GMOA Secretary Nalinda Herath told a media briefing that they had written to President Maithripala Sirisena on this matter.
He said the 2016 Budget had deprived them of obtaining vehicle permits once in five years, a privileged they had enjoyed for several years.
"According to the new circular issued by the Finance Ministry, we are only granted two vehicle permits for the entire service period – the first on the completion of six years and the second after ten years," Dr. Herath said. (Kalathma Jayawardhane)