---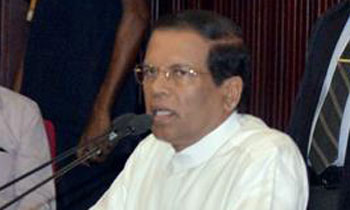 The global financial agencies like the World Bank, IMF, ADB, JAICA and KOICA must be aware of the efforts taken by beneficiary countries to protect their bio diversity, forests and environment when offering financial aid, President Maithripala Sirisena said.
He said donor agencies must grant enhanced financial assistance to those countries which protect the environment and enact legislation to preserve their bio diversity while those who do not must be penalized.
He said this at the inauguration of the 27th session of the Asia-Pacific Forestry Commission at the BMICH yesterday.
The President said the core objective of protecting the forests, air, water resources, trees and plants was to preserve them for the next generation and make the earth habitable to all human beings.
"Attention has been drawn to preserve forest density, protect trees and plants, water and natural resources by the global community at large and by each and every country in particular. The 2016 Paris Agreement brings all nations together for a common cause to combat climate change and it charts a new course in the global climate effort. The Paris Agreement's main objective is to mobilize the global community to strengthen the global response to the threat of climate change by maintaining a temperature rise well below two degrees Celsius. The Paris Agreement has been ratified by 168 countries out of 197 including Sri Lanka," he said. "When I addressed the 72nd UN General Assembly in New York last month I explained the efforts taken by Sri Lanka to protect its environment, forestry and bio diversity."
The President said priority has been given to convince school students the importance of loving and protecting the environment as a habit and parents and teachers have been instructed to give the name of the child to the tree planted by him or her instead of giving it the scientific name to popularize tree planting among the young generation.
He said Sri Lanka had suffered immensely as a result of climate change with some parts of the country experiencing a drought for one and a half years while other parts of the country were devastated by floods, landslides killing hundreds and displacing thousands.
"But natural disasters are not restricted only to Sri Lanka. Almost all other countries in the world have suffered more due to climate change. That is why we must do our best to make the earth a safe place from ill effects of climate change," the President said.
The five-day session sponsored by the Food and Agriculture Organization (FAO) is attended by delegates from 34 countries of the Asia–Pacific region.
The keynote address was given by Tony Simon, Chairman of the Council of the International Argo-Forestry Research while an introduction to the session was given by Deputy Director General of the FAO, Iroto Mitsuki.
The welcome address was made by Conservator of Forests, S.A. Anura Sathurusingha. The vote of thanks was proposed by Thomas Hauger, Senior Forest Officer of FAO. (Sandun A Jayasekera)