---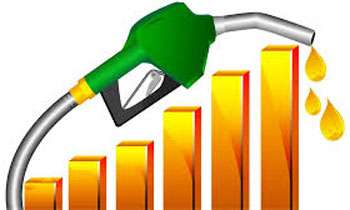 The retail prices of fuel have been revised with effect from midnight today based on the fuel pricing formula, the Finance Ministry said.
The breakdown of the fuel price increase are as follows: Lanka Petrol (Octane 92) by Rs.6 per litre where the revised price is Rs.155, Lanka Petrol (Octane 95) Euro 4 has seen an increase of Rs.8 per litre and will be sold at Rs.169. A litre of Lanka Super Diesel four Star Euro 4 will be increased by Rs.8 and the revised price is Rs.141.
The prices of Auto Diesel would remain unchanged.
According to the pricing formula implemented by the government to determine monthly fuel prices, the price of diesel needed to be increased by Rs.11, the Finance Ministry said.
However, the government had decided not to increase diesel prices due to the adverse effect it would have on the public, especially in relation to the transport sector and the fishing industry, they said.
Last May Cabinet approved the fuel pricing formula to help determine local fuel prices according to the fluctuation of international crude oil prices and the exchange rate of Sri Lankan currency.
The previous month's fuel price revision was calculated according to this fuel pricing formula. At that time, the price of a barrel of crude oil was USD 75 which had now risen to USD 84.
In Parliament yesterday Finance Minister Mangala Samaraweera said as a sensitive government they did not increase the fuel prices in line with international fuel price increases.This is why we took the decision not to increase the price of diesel due to the adverse effects it would have on key sectors. (Chaturanga Samarawickrama)
Video by Sanjeewa