---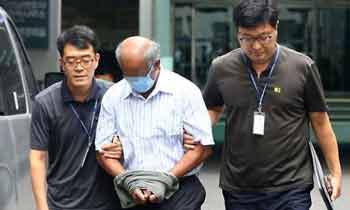 The Sri Lankan national, whose robbery and rape charges were cleared by the Korean Supreme Court, was forcibly sent back to Sri Lanka earlier this week, the Korea Herald reported today quoting Justice Ministry.
Last Tuesday, the Korean Supreme Court upheld not guilty rulings by the lower courts on the 51-year-old man after two years of a review on the unsolved case, citing insufficient evidence.
The man, along with two other Sri Lankan accomplices, was indicted in 2013 on charges of robbing and raping an 18-year-old South Korean college student in 1998.
The belated indictment came as the DNA of the man, who was arrested for soliciting a minor for prostitution, was found to match that left on the girl's underwear.
She was found dead on Oct. 17, 1998, after being hit by a dump truck on a highway in Daegu, some 302 kilometers southeast of Seoul. She was on her way home at midnight.
At that time, the police suspected rape first, as her underwear was found 30 meters away from the site of the accident, but concluded it was an accidental death.
However, the Sri Lankan was indicted for suggesting a sex trade to a teenager in 2011, and in 2013 his DNA was found to match up with that found in the 1998 victim's underwear, leading to a fresh probe into the cold case, this time by the prosecution.
Later that year the prosecution accused the three Sri Lankans, along with the accomplices, of committing robbery and rape, but the lower courts handed down verdicts of acquittal to him, citing insufficient evidence.
"The Sri Lankan was expelled to his country via Incheon International Airport Wednesday night pertinent to the country's law that any foreigner who receives a suspended sentence shall be extradited," a ministry official said.
The accomplices were already banished in 2001 and 2005, respectively, for illegal stays.
Meanwhile, the prosecution is reportedly seeking ways to bring the Sri Lankan to justice in his own country, in which the statute of limitations for rape is 20 years. (Yonhap)