---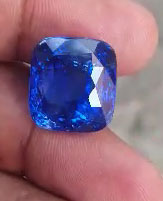 Four persons had been arrested for stealing a blue Sapphire gemstone worth some Rs. 21 million from a businessman, Police said.
Police Spokesman SP Ruwan Gunasekara said the businessman from Beruwala had complained to the IGP Pujith Jayasundara last month one of his gemstones was stolen when he gave it to a institute in Kollupitiya for cut and polish.
The IGP handed over the case to the CID following the complain. SP Gunasekara said the CID initially arrested an employee at the gem institute in Kollupitiya.
Few days after, the businessman who received latest information about his lost gem had again informed the IGP on last Saturday a suspicious person was trying to dispose it in Trincomalee.
The IGP directed the Terrorism Investigation Division (TID) Director and ordered to investigate the matter. A TID team proceeded to Trincomalee area in guise of buyers and found a dealer who was selling gems. The dealer asked the TID buyers to come to a location at Thopur and had informed other three individuals who posses the gemstone to bring it.
The suspects initially showed a fake gemstone to the buyers and later produced the actual stone which was stolen from the businessman.
The suspects were arrested by the TID at the scene and handed over to the CID. They were produced in the Mount Lavinia Magistrate Court and remanded till October 20. They were identified as residents of Mutur.
The SP said investigation revealed that a 30-year-old man who was employed as a painter at the Kollupitiya gem institute had stolen the gemstone and had given it to his father-in-law to sell.(Darshana Sanjeewa)