---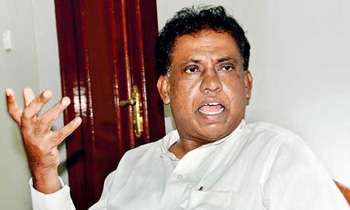 The police arrested former Tamil National Alliance (TNA) MP M.K. Sivajilingam and a few others as they tried to cut a cake to celebrate the birthday of LTTE leader Velupillai Prabhakaran in Velvetithurai, Jaffna today.
Mr. Sivajilingam, along with others, tried to enter the home garden of Prabhakaran in Velvetithurai only to be obstructed by the police. However, they took a detour and entered the garden, but were barred from any celebration. Later, they attempted to cut a cake at a public park in the area.
Mr. Sivajilingam told Daily Mirror that he was arrested by the police and released later at this place. Along with him, his driver, Chairman of Velvetithurai Urban Council Chairman K. Karunanantharajah and a Urban Council member were arrested.
He said he would commemorate Mahaveer Day tomorrow without displaying the LTTE symbols.
Video by Romesh Madushanka