---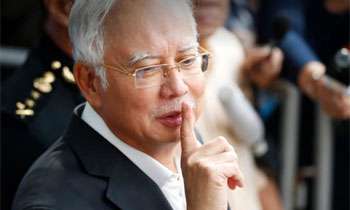 Former Malaysian Prime Minister Najib Razak was arrested by anti-corruption investigators on Tuesday afternoon in a development likely to lead to the former leader's charging with corruption offences.
A source with knowledge of the inquiry into Najib said that investigators had arranged for the former PM to hand himself into the anti-corruption agency on Tuesday.
Last month, Malaysian Prime Minister Mahathir Mohamad said authorities were seeking to bring embezzlement and bribery charges against Najib after an inquiry into the suspected theft of billions of dollars from the state-run fund 1MDB.
US Department of Justice civil lawsuits are seeking to seize $US1.7 billion in real estate, art works and other luxuries allegedly bought with money looted from the 1Malaysia Development Berhad (1MDB) state fund, over which Najib exercised significant control.(Sydney Morning Herald)