---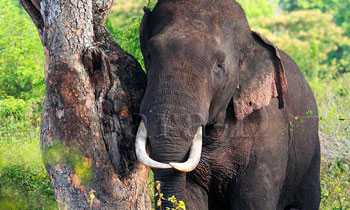 Five persons who are suspected to have killed the Tusker 'Dala Poottuwa' were arrested last night by the Polpithigama police.
Police said the suspects were arrested from Moragollagama area in Nikaweratiya following a tip off received by the Criminal Investigation Division (CID) in the Nikaweratiya and Ambanpola police areas.
Two tusk cutting saws, part of a hand saw, two pendants made up of ivory, one ivory talisman, part of an elephant tusk and organic ivory gemstone (Gaja Muthu) were found when the suspects were taken in to custody.
The suspects are to be produce before the Maho Magistrate today.
The Wildlife Department yesterday said the postmortem carried out on the elephant body found near the Sorow Wewa at Moragollagama had confirmed the body was that of Tusker Dala Poottuwa.
The postmortem had also revealed that the cause of death were gunshot injuries. (Chaturanga Pradeep)