---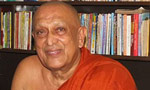 The Deputy Director General of the Colombo National Hospital Dr. Anil Jasinghe had written to the Colombo Chief Magistrate Gihan Pilapitiya informing that a five member committee had been appointed to investigate into the reasons for not conducting a post mortem on the body of the late Kotte Sri Nagaviharadhipathi Ven. Maduluwawe Sobhitha Thera.
Dr. Jasinghe had further stated that in accordance to the order made by the Colombo Chief magistrate, on the Deputy Director General of the Colombo National Hospital, requiring the appointment of a committee of Medical professionals to inquire into why a post mortem was not held on the body of the late Thera, and a regular report on the findings submitted to courts, this committee had been appointed.
Dr. Jasinghe who presides at this committee of professionals, include the chief JMO of Colombo Dr. Ajith Thennakoon, the Cardiothoracic Anesthetist of Colombo National Hospital, Specialist Dr. Ms Kumudini Ranathunga, Cardiology Specialist of the Colombo National Hospital Dr. Ms Nimali Fernando and Cardiothoracic Surgeon of the National Hospital Colombo Dr. Iresh Wijemanna.
It was further stated that Dr. Thushara Matiwalage had been appointed as the secretary of this committee and no sooner all the medical reports of the Late Maduluwawe Thera are received by them, the committee would begin conducting its sessions. This letter also indicates that Dr. Jasinghe had also requested the CID to submit all medical reports concerning this incident.
The CID had requested courts to conduct an investigation by a Medical Council led by the Director of the Colombo National Hospital to ascertain the similarities in the treatment the late Thera had obtained at Mount Elizabeth hospital in Singapore and the information contained in the death certificate issued by that hospital with the earlier maladies for which the late Thera had been obtaining treatment.
These investigations were instituted by the CID on a complaint lodged by Ven Uduwe Dammaloka Thera of Siri Alan Mathiniyaramaya alleging that the death of the late Thera was suspicious. (Nirangi Abeywickrama)