---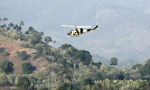 Around 300 acres in the Knuckles mountain range was destroyed by a fire which broke out on Friday.
The Disaster Management Center said that even though the fire was controlled with the assistance of the Air Force, it had spread to the Yahangala area.
Fire teams together with the Air Force and the wild life official are still dousing the fire.
A bell 2012 helicopter of the Sri Lanka Air Force has also been deployed to douse the fire. (Nadeeka Bandara and Chamil Rupasinghe)