---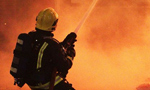 A non academic staff employee was hospitalized with severe burns after a fire broke out in a storeroom at the Uva Science College at Hali-Ela, Badulla this morning.
Police said the fire had broken out while the employee was engaged in welding work in the storeroom. The fire brigade and the police doused the fire, which completely destroyed the room.
The 33-year-old victim was admitted to the Badulla Hospital.