---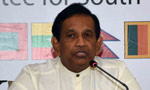 Health Minister Rajitha Senaratne said today certain officials in the Finance Ministry were sabotaging the government's effort to control the use of tobacco and cigarettes by scuttling the cabinet proposal to increase tobacco tax to 90%.
"A joint proposal was made to the Cabinet by President Maithripala Sirisena and me to increase the tax on tobacco to 90% with the Finance Ministry wanting to study the proposal and submit its observations. Whenever this matter was discussed the officials raised several concerns saying the tax increase will affect the industry and its 300,000 employees. I am sad to say that these officials spoke like agents of the cigarette company with no concern about the huge cost which as to be borne by the Health Ministry to treat the thousands of patients suffering from tobacco-related diseases such as lung cancer and respiratory complications. I must tell that the government's aim is to weaken the tobacco industry and prevent people from smoking and we can save billions of rupees if that happens," the minister said. "Finance Ministry officials even attempted to teach us about the data on smoking and related diseases and said the tax increase will be a loss to the Treasury and not an increase on income."
He said despite the many obstacles he was determined to the 90% tax levy sooner than later and a three-member ministerial committee has been appointed to report to the Cabinet before its next meeting.
The minister said he was confident of Cabinet approving the tax increase at its next meeting and pointed out that he was determined to reduce the prices of medicinal drug prices through the National Medicinal Drugs Regulatory Authority (NMRA).
"The NMRA has to carry out a meticulous survey on current prices of drugs and the 500% profit made by drug companies, importers and distributors. It is a mammoth task to regulate and price some 10,000 drug varieties imported to Sri Lanka. My target is to limit the profit to about 80%," he said.
The minister said the World Health Organization had commended Sri Lanka on its national immunization programme and the eradication of Malaria, Filaria and polio.
"The WHO categorizes Sri Lanka among the ten best countries in the world on the control, treatment and prevention of many a disease and on its free health policy. We are on the verge of eradicating tetanus, hepatitis and measles. Diseases like rabies are under control and our National Immunization Programme in one of the best in the world. Our health service is the best in the region and lowest in child mortality rate, maternal deaths and premature births," he said. (Sandun A Jayasekera)