---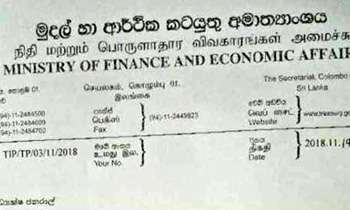 The Finance Ministry yesterday rejected reports that Finance Minister Mahinda Rajapaksa had forced the customs department to release a person who had attempted to smuggle out US dollars amounting to 53,455 from the country.
The amount of dollars had been confiscated by the customs from an Iranian and the money is said to be the salary received by the Iranians who work under the Uma Oya project.
The Iranians are taking home their salary in this way due to the non-transaction between Sri Lankan and Iranian banks and Iranian Ambassador had made a request to allow these Iranian workers to take home their salary in this way on sympathetic grounds.
Accordingly, Prime Minister Mahinda Rajapaksa in his capacity as the Finance Minister had instructed the customs to return the money to the Iranian, the Finance Ministry said. It also said that this was not the first time the Iranians took money to their country in this way and in a similar incident another Iranian national was also given back his confiscated money in June this year during the former Finance Minister's tenure