---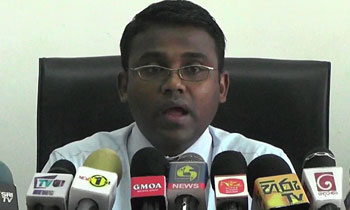 The GMOA today accused the Finance Ministry of attempting to reduce the tax on liquor through the 2018 budget and said this would encourage the liquor use.
It said despite the national policy of the country which is to prevent the easy access to liquor, the Finance Ministry was attempting reduce tax with the intention of promoting the tourism sector. GMOA spokesman Samantha Ananda said the Finance Ministry's move would destroy the values of the country as it would encourage alcoholism.
"It is attempting to create butterflies through rainbow economic goals. Having sold the country's resources, the government now trying to sell its culture," he said.
Dr. Ananda said the move was a violation of World Health Organisation (WHO) standards and it had strongly suggested that higher tax should be imposed. The GMOA demanded a complete ban of alcohol.
Meanwhile, GMOA Secretary Haritha Aluthge said the GMOA was informed of an attempt to open liquor outlets countrywide at SATHOSA outlets. He said if it was done it would influence liquor consumption. Dr. Aluthge said liquor and tobacco were not essential to the tourism industry and tourists could visit the country to view its landscape and nature.
"Tourists don't visit the country because of liquor and tobacco. If the Finance ministry is saying liquor and tobacco is a must to survival of the industry we should not let those drunken tourists enter our country with a great culture," he said. (Thilanka Kanakarathna)